Michelle L. Lange, OTR/L, ABDA, ATP/SMS
Whenever I recommend complex rehab equipment for a client, I need to be aware of the cost of my recommendations. Why? One reason is that my documentation must often include why something less costly will not meet the client's needs. I often hear from team members who are considering Dynamic Seating interventions but are concerned about the cost of these components and if the equipment is justified, as a result.
Dynamic Seating has many clinical benefits for wheelchair users and those benefits are our primary justification. From there, I do believe we can look at the cost-benefit analysis and find additional justifications.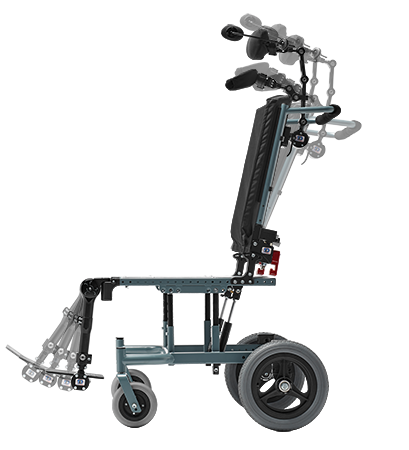 Cost-Benefit Analysis
Durability
Dynamic Seating is often used to absorb strong client forces and protect the wheelchair frame, hardware, and seating system from costly damage and breakage.
Dynamic Seating components, like those from Seating Dynamics, are very durable – designed for repeated and forceful movements. As a result, these components are less likely to require replacement due to wear and tear, again providing a cost savings. The elastomers will require replacement about once a year, as these small parts absorb all those forces and protect the rest of the dynamic component, as well as protect the wheelchair system.
Retrofittable
Modular Dynamic Seating components, like the Seating Dynamics products, can be added to an existing compatible wheelchair frame. This can be a substantial cost savings over the need to purchase a fully integrated wheelchair in order to benefit from these dynamic features. Currently, there is not a dynamic integrated wheelchair available in the United States.
Transferability
When the client requires a new wheelchair due to growth, wear and tear, or other changes, the Dynamic Seating components can often be transferred over to the new wheelchair frame, eliminating the cost of purchasing replacement Dynamic Seating components.
Growth
If the client grows and the wheelchair frame is grown to accommodate this, the Dynamic Seating components will move as the frame is lengthened or widened. New components are not required.
Accommodating change
If the client makes changes which require the resistance of a Dynamic Seating component to be modified, the elastomers or springs can be swapped without changing the entire Dynamic component. For example, a client may have a change in tone management that reduces the force exerted against the Dynamic Seating components. The elastomers can then be changed to respond to a lesser amount of force.
Dynamic Seating has many clinical benefits for wheelchair users, though adds cost (for more information on clinical benefits, check out some of our other blogs). In looking at the cost-benefit ratio, Dynamic Seating can prevent breakage of expensive wheelchair frames, hardware and seating systems; is retrofittable and grows with existing equipment; can often be moved to a new wheelchair frame; is durable for long-term use; and can be adjusted to meet a client's changing needs.
** This post was originally published on https://www.seatingdynamics.com/2019/05/28/dynamic-seating-a-cost-benefit-analysis/